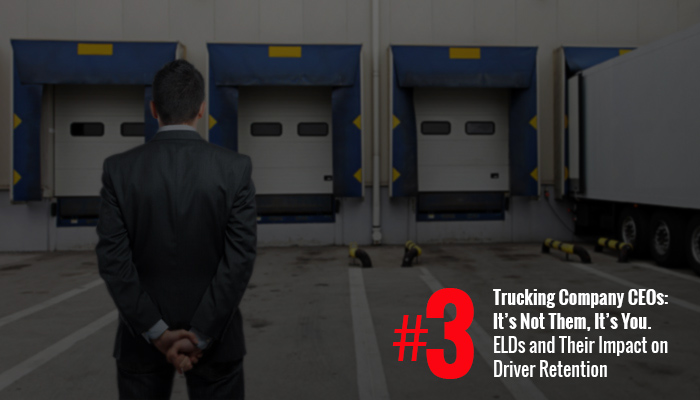 ELDs and Their Impact on Driver Retention
Are you content with your ability to keep drivers? Are you concerned that retention will worsen because of the mandate for electronic logging devices?
The clock is ticking for motor carriers that are delaying implementation of electronic logging devices. The fear for some is that this new mandated technology will hurt their business. Ultimately, constricted truck capacity will again upset the economy significantly in 2017.
What's holding you back? Do you fear:
Your drivers will leave to go elsewhere where ELD is not yet required?  Most drivers that have begun to use the new technology are surprised about the value they receive from 'running legal' while yielding higher earnings.
The cost involved to purchase and maintain the equipment and monthly service will be prohibitive? There are many ways to manage/offset the costs of purchase, training and monthly service costs.
Productivity will be lost due to training staff and drivers to use the new technology? Just like adapting to hours of services rule changes, companies learn to accept new restrictions and limitations in operations and manage through them over time.
You will experience inabilities to do business as you currently do, to get loads covered, picked-up and delivered legally according to DOT and shipper requirements? The anti-coercion statute, which protects against forcing drivers to violate hours of service law, will soon be in effect. This also meets the ELD hours of service enforcement requirement and will be mandated for all carriers, including your competition.
Are you concerned about shippers cutting you off because use of ELD will not allow you to meet their pick-up and delivery schedules? Shippers will have to do a better job of scheduling pick-ups and loading and unloading times to accommodate driver's hour's mandates. They will have to adapt to change also.
Shippers and brokers will increasingly pull away from carriers that do not have ELDs in place. Similar to having proper insurance verification before expiration, shippers and brokers will not load you as the deadline date approaches.
Waiting until mid-year or late in 2017 is a terrible idea. The availability of computer tablets or other required hardware or installation capabilities may affect the cost, ability to deliver product and the time needed to train your people while depending upon the overworked support capabilities from the ELD vendors.
No surprise here. Why wait until the last minute?
The critical factor in all this will reflect on your already excessive driver turnover problems. Adopting ELDs can send the correct message to staff and drivers that you are a company that embraces (rather than being forced to) support regulations that protect your drivers. So what's your strategy to implement ELDs and increase retention instead of losing more drivers at an even faster pace than you currently are experiencing?
If the majority of experts are correct in their predictions for the second half of 2017, the current atmosphere of overcapacity and falling rates will shift to a greater need for more drivers. This will be particularly troublesome as the effect of ELDs is felt as some drivers leave the business altogether while you may be continuing to contend with turnover issues
What can you do to grow in 2017, make money while working through all these pressures and ensure that your driver retention stats improve?
Part IV of this series will explore several ways you can accomplish the goals listed above.