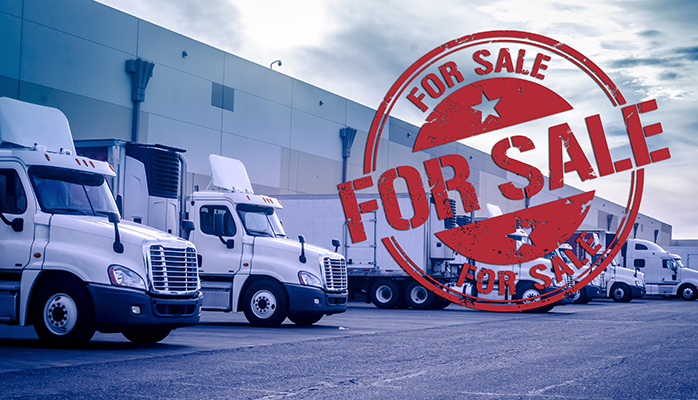 According to a statement made recently at the TIA conference in Orlando, there were more than 1000 deals made last year involving transportation companies. The expectation is that this year there will be over 1400 transactions. Why?
Do you want to be included in this exclusive 'Former Owners Club'? Will your transaction, buy-side or sell-side, deliver the expected benefits? Let's explore several reasons to sell and potential pitfalls of poor planning and execution.
It can be argued that fear is driving owners to sell – the risk of outrageous liability claims, potentially increased insurance coverage minimum requirements, commercial driver shortages, regulatory pressures, wages and freight rates issues, increasing cost of trucks and trailers and a host of other issues.
Another factor some consider is that the next generation is not interested in the transportation sector or succeeding dad or mom; "if it's not tech, it's not good" say the millennials.
The real reasons for so much activity from the point of view of the sellers are:
There are a lot of potential buyers for the same target companies
Sellers can get more than "top dollar" – six, eight or even ten times earnings is a common formula
Sellers are motivated because the stock market provides exciting options to invest
Sellers know that a drop in the stock market could change the game quickly –the time is now (and has been for about 2 years)
Private equity firms are a second source of buyers compared to the years when only other transportation companies were potential buyers
There is a lot of money to buy and cash is a very likely payment method
The real currency in trucking today is drivers, more so than in years past; it's no longer about buying customers and equipment
Selling truck freight capacity to shippers has more value than any other asset or service they have to offer
Organic growth is not very likely and efforts to increase margin over time are dim
Sellers know that rising freight rates and the improving economy provide the best environment for maximum sales price
The smarter owners that have been living off of high fuel service charges know that as fuel prices remain at presently reduced levels, their profitability could disappear. Time to get out?
On the other side of deals, buyers know that the transportation industry is fragmented. Many potential buyers know that with their current platforms the driver shortages will also limit their ability to grow so acquisitions or mergers make the most sense.
The transportation companies that have cash and robust balance sheets know that they can leverage their way into making an acquisition. In a different economic environment, this would not be possible. Companies often see as a new strategy acquiring smaller regional companies to help build density, especially in east west traffic lanes.
Buyers are interested in consolidations to offer services, technology and building scale that they might not easily be able to provide internally. Other reasons for the high level of acquisitions is to access and diversify customer concentrations, enter new markets and acquire proprietary know-how, especially technology.
Of particular importance in these transactions is the potential failure or at least major complications that often arise from these transactions, sometimes immediately and perhaps even after weeks or months after closing.
The three most common results of a 'bad' deal arise from:
Failure to prepare properly and plan for a transaction
Failure to do proper due diligence or not challenge assumptions effectively
Failure to anticipate and execute the economies of scale and implement and protect the culture and changes that result
In Part II of this article we will explain these three steps and provide a blueprint to help you increase your company's value, properly plan for a transaction and help you make the transition as a seller with a company to an employee of your former company.
To help you analyze a potential target company or your own, download a complimentary copy of my Buy Side/Sell Side – Due Diligence Checklist for Trucking Logistics.