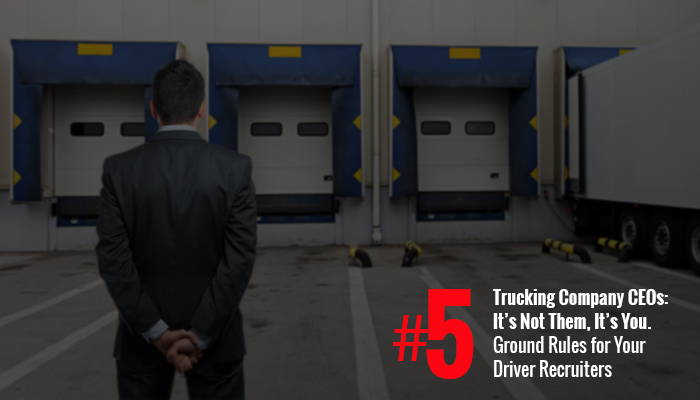 Ground Rules for Your Driver Recruiters
Previously we suggested some important factors that will lead motor carrier CEOs to better control of their high driver turnover problem. We offered some ideas to successfully manage the Electronic Logging Device mandate and how to avoid losing drivers that are fearful of the impact of this required technology.
Secondly, we suggested the need for motor carrier to CEOs adopt and buy-into real change – change in culture, operations, attitude of employees as well as drivers and shippers.
Finally, we developed the idea that it is time to retrain your current "recruiters" and train new ones to become much more capable of conducting more in depth recruiting, screening and onboarding procedures to qualified new drivers to your company.
Keep in mind that there are too many people "recruiting" that are not trained properly and often have other responsibilities. It is time to have at least one professional, well trained "recruiter" who may or may not also be the chief retention officer at the same time.
None of this is meant to sound easy to do. First is the commitment, then strategy and finally proper execution of new procedures, standards and policies. There are still many very qualified drivers. Many are looking to change companies. Still many more have lesser standards and the challenge is to attract the best of the best. Sound impossible? Let's see.
Successful recruiting of drivers includes not only sourcing, interviewing and hiring candidates but also requires some new innovative procedures in the onboarding process. Forget everything you have leaned and do to onboard a new driver.
Let's look at some big differences in new thinking.
Companies that take a new driver and take a couple of hours to a couple of days in "orientation" are both probably starting to lose that driver already with the first moments of contact. Your presenters don't show any respect for your drivers when they show up late and keep drivers waiting that happens all too often.
Trucks that need inspection should have that requirement completed while the driver is busy with orientation not on the last day when the driver should be ready to leave with a load. Required paperwork should be completed early and not require drivers to hang around waiting for HR or safety of other department to complete paperwork with the drivers. Companies that require new drivers to show up one day and keep them for 2 or 3 or more days is just plain wrong.
Redesign your orientation plan, training and schedule so that the program only focuses on what is critically important that the driver(s) really needs to know from the time spent not driving?
Ask yourself: do they really need to spend several hours on Haz Mat, or drug testing, or load securement from orientation? Some would argue absolutely yes and some absolutely no! A well written test of driver knowledge can cut hours off of the initial training. A road test can save a lot of time, money, and potential roadside violations and claims for crashes and cargo damage
Let's start with some fundamental changes in your orientation program that will tell the driver that the promises you made and expectations you created thus far in your communications with the driver are really different, truthful and will cause the driver to say "wow".
Here are some new ground rules:
First, replace class room orientation training with a more robust interactive methodology that eliminates the driver sitting for hours or days. He has enough of that in the truck.
Use props such as a real trailer to show how load securement in LTL or flatbed should be done.
Use a tractor, even the drivers and go through a complete vehicle inspection, pre-trip, brake adjustment and other sources of mechanical failure and roadside violations.
Use an ELD to train on your ELD Program.
Think of props that you can use (Buy, Build or Create) to show and not talk to drivers; this is interactive training, and much more effective.
 Think of practical hands-on ways of teaching, training the topics that will help the drivers be safe, compliant, efficient, understand your systems and procedures.
Take drivers to HR, settlement or payroll, safety departments rather than having these department people come to a classroom.
Meet with the people at their desk that process trip packets, review POD's, bills of lading, fuel advances, etc.
This is more impactful in getting compliance than from boring classroom training
Avoid lecture format as much as possible – include current drivers in teaching when possible. These are driver Ambassadors.
Avoid PowerPoint at all costs.
Avoid drivers sitting in front of videos.
Invest in a desktop simulator of driving scenarios to "humble" drivers that think they are great.
Have drivers go through "Decision Driver" training as a group.
Role play with drivers about voiding road rage aggressive driver behavior.
Conduct a Commentary Drive Assessment where drivers are actually driving with an instructor and giving a running commentary of what they are doing and seeing. This is a powerful training tool.
Working on these changes in your company activities will have a huge short-term and long-term impact on your driver satisfaction, productivity and profits. Begin to learn how to create an intelligent driver retention system.
In part VI of this series we will discuss the last two critical changes you can make in your driver recruiting and retention activities. Work all these changes into your company operations and you should yield at least a 15 to 20% reduction in driver turnover plus begin to be recognized as a great place to work and, consequently, attract new drivers, allowing you to grow your company.