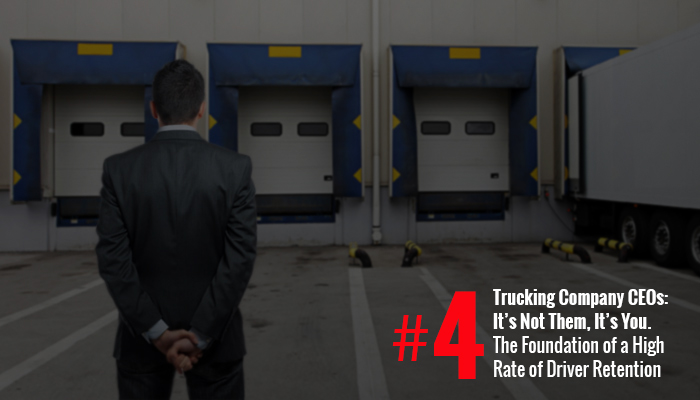 The Foundation of a High Rate of Driver Retention
Who is creating your turnover problem? Is it you as CEO (or other senior executive)? Are you creating your own capacity shortage because of poor planning and not preventing driver defections?
What can you do to grow in 2017, make money while working through all these pressures and ensure that your driver retention results improve?
Unless you have a system that successfully attracts drivers, keeps drivers, and helps them in their work/life satisfaction and balance, you will continue to enjoy the revolving door that is draining profits from your bottom line.
No surprise here, but it is truly amazing that probably 95% of all motor carriers do what they have always done in recruiting, screening, interviewing, onboarding and ultimately not keeping 80% of their drivers over time.
Perhaps it is time to try something really different. Change the company culture.
The successful and very smart CEOs know that developing systems and procedures and a way of doing business that attracts and keep drivers, shippers, and key employees are the recipe to success. A well-known trucking company in central Illinois attributes their 30% turnover to the way they treat their drivers and, believe it or not, their faith-based culture.
It works for them.
Changes in culture such as how drivers are talked to, how problems are managed and how the important issues are handled, such as understanding why drivers leave or correctly managing expectations, are primary reasons why they say "yes" to a particular company that they will work for.
The ultimate impact on your company is a positive one – the improvement of driver retention.
There are 2 critical success factors that must be the foundation of a change in culture to support driver retention – without them, I can guarantee you will fail.
It has to come from the top. There must be CEO buy in, a commitment to maintain an ongoing focus on the importance of the driver as your company's greatest asset.
Adopt a Drivers Are First mentality. This means a major change in attitude and behavior in your company culture so that drivers are treated with respect, honesty, truthfulness in dispatch, payroll (settlements), home time/time off, resolving problems they face with shippers/receivers and concern for their success.
Throughout this series, we will continue to discuss additional factors that influence your ability to have a driver retention program you can be proud of and, consequently, grow your business and your profits.