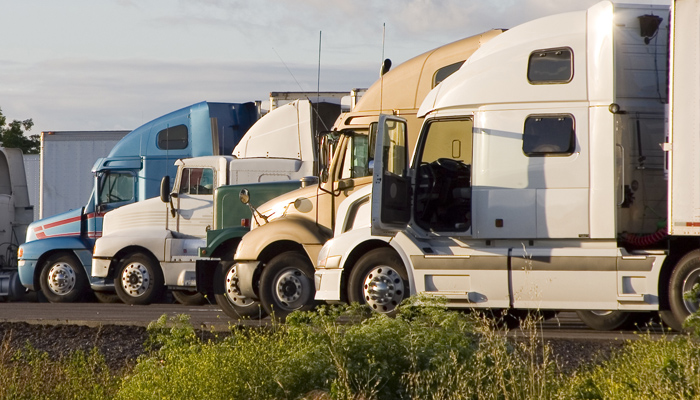 According to the latest monthly jobs report from the U.S. Department of Labor, September reported the second consecutive hiring decline with a loss of 4,000 trucking jobs over August. The uptick since last year has been significant but the slowdown in freight is creating a gap between available drivers and freight with freight rates also suffering as a result.
Business is slow and has been for the past several weeks at least in the Midwest. Here is an example of the impact of the current excess capacity situation that has surprised many trucking executives:
"I had three truck drivers last week come in to my office, off the street, asking me if I was hiring," a local truckload company executive told me at breakfast last week.
Thursday, another CEO said, "I have twice as many drivers as I had a year ago, which is the good news, but I am only working most of them 4 days a week because we are slow".
However, in speaking to the president of a national transportation association in early September, my comment that Midwest freight has been slow was met with her response: "I had not heard that. Other parts of the country are very busy".
The truck driver shortage has been a major force to deal with in the trucking industry since the winter of 2013 and has not reversed since, or has it?
It seems there are pockets of the U.S. where the driver issue still exists while in other regions, drivers are filling trucking company pipelines with drivers looking for work because they can't seem to find enough opportunities now.  This is despite what most observers think is usually a very busy time of the year for transportation.
What are you experiencing?
Do you have enough drivers?   Do you have a surplus of drivers? Do you have enough freight?
What are you doing about it?
In a previous article, The Driver Shortage – Is it Over?, I argued that trucking company CEOs' confidence in a backlog of driver candidates is dangerous.
While the plan to have qualified and approved drivers on hand until the freight volume improves so you can put them to work, sounds like a good strategy, these drivers probably have positions promised elsewhere – and the first call to work wins.
Further, if you have reduced miles and moves to keep your hired drivers working, how do you dissuade them from approaching other companies to look for a better deal during these tough times?
This driver shortage issue has not been resolved, we are merely riding the tumultuous transportation coaster. The only way to gain security for drivers in your organization is to be the small percentage brave enough to focus on the big picture, and take the much needed drastic steps to create the culture necessary to KEEP drivers long-term, or you can continue to sit at the gambling table with the competition and enjoy the turnover roller coaster.
In my new book which will be out this fall, Creating an Intelligent Driver Retention System – Rethinking Your Strategy and Practices I propose a very different approach to driver retention. By implementing a series of next practices, you can virtually eliminate recruiting problems so that you may focus on growth.
Creating a truly effective marketing strategy that focuses on your 'Attractor Factor' will pull drivers to your company for the right reasons. This will allow you to build a stable work force rather than getting drivers by offering short-term solutions which only set you up for high turnover.
The upshot is that the CEO needs to gather his team, whiteboard new policies, procedures and attitudes and provide significant training to all employees that come into contact with drivers so they accept the changes needed.
Finally, protect your drivers from the maltreatment, rudeness and disrespect that they often experience at pick-up and delivery docks.  Do not tolerate abuse of your drivers.  This factor alone will spread your new "reputation" as being a great place to work at.
For more information and a free sample Recruiting/Retention tool, contact me at norris@rredinc.com or message me on LinkedIn
Norris Beren, CEO of Risk Reduction Education located in Mt Prospect, Illinois, provides executive advisory services to transportation and logistics CEOs and their executive teams to get out of "stuck" and become top performing companies. He uses a different lens analysis of legacy thinking including advanced strategies on retention and recruiting.