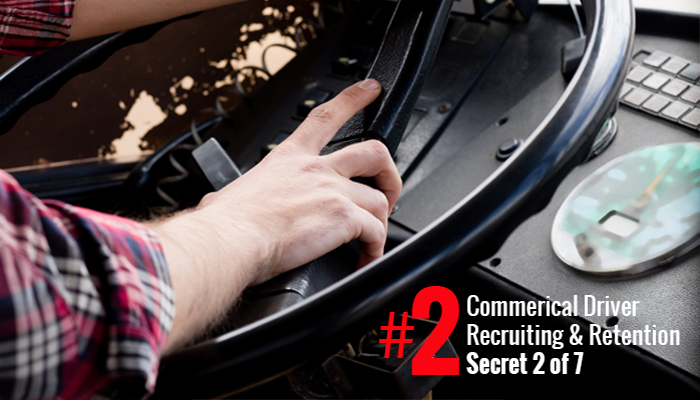 Knowledge is Power – How to Know What You Don't Know About Your Company
In the previous article we began a discussion of why only a few trucking companies enjoy low driver turnover and high productivity, when most don't.
Developing a powerful brand reputation where Drivers are Really Everything[DARE] and where it is well known that the CEO is committed to build a culture that supports the drivers is a powerful way to create an 'Attractor Factor'. This approach will pull drivers to the company rather than push them away, which most companies unintentionally seem prone to do today.
So ask yourself: Do you know what you need to know to begin to build a competitive retention strategy for your company?
Before you begin, consider that you may have the same challenge in common with so many other carrier companies (or any industry struggling with finding and keeping good employees) — you don't know what you don't know.
In consulting with dozens of trucking company recruiters, operations and safety staff, we follow the simple mantra Knowledge is Power. You cannot find out what you don't know about your company and drivers or more importantly, what you need to know, unless you ask!
A discovery initiative will most likely yield some unsettling or less than desirable insight, though if you continue to bury your head in the sand you risk short term quick fixes instead of building a foundation that supports long term, productive results.
So here are some action steps that could have a huge impact on retention and promote your brand reputation that existing drivers will begin to talk about. This approach will go a long way to reach drivers looking for a change, but to a company that really cares about and understands their drivers and their needs and desires. Steps to gain necessary knowledge:
Conduct live interviews with existing drivers in a structured format when possible, you will be surprised about what you will learn. For a copy of our live sample interview survey script, Driver Study Talking Points message or email me.
Train your dispatchers how to listen to, honor and respect drivers. As your 'front line' they should also be aware of how to be sensitive to unspoken problems and obstacles carriers face on the job and know when to report issues that need attention.
Ask your drivers for their solutions to these problems. When conducting your live interviews or consider using a survey for them to record their thoughts as a tool for you to begin improvements.
Send out regular questionnaires to drivers and ask them to 'rate' your customers, and your key staff from their point of view. Then take action on problems or explain why no action is warranted — but stay connected and be responsive. You will have to separate legitimate comments with merit from comments that are self-serving. For a copy The Employee Perception Survey, message or email me.
Introduce a senior executive, as high level as possible to all new drivers at orientation, in person, or electronically where there are multiple locations.
Avoid the usual practice of classroom orientations that go on too long by reviewing policies on PowerPoint presentations. Endorse the DARE attitude on day one – give them the necessary, interactive attention and you will learn if initial expectations are being met.
Let drivers know the CEO is committed and open to hearing their questions and concerns and invite them to have open and honest conversations with management. The development of the type of culture where "Drivers are Really Everything" must begin at the highest level of management, and that must be the CEO/Owner.
The process of interacting with drivers to get their opinions and then acting on some of the needed actions will provide the company with enormous brand value and go a long way to attract new drivers — and keep many more that might otherwise leave. These action steps will begin to create a new culture and high level of professionalism if the procedures laid out herein are adopted.
Drivers will appreciate the new level of involvement and share it with outsiders. This will help create and promote a pull marketing initiative.
Measure the results by using a dashboard to report daily and weekly activity and the impact on recruiting new drivers and retention of existing drivers. It will also allow you to tweak any activity which needs improvement or elimination.
Next up: Secret # 3: Incentives Don't Overcome Other Issues
From How to Find and Keep Truck Drivers and Independent Contractors  by Norris L. Beren of RRED, Inc. – Coming Summer 2015: Norris Beren, CEO of Risk Reduction Education located in Mt Prospect, Illinois, provides executive advisory services to transportation and logistics CEOs and their executive teams to 'get out of stuck' and become a top performing company again through a different lens analysis of old school thinking.