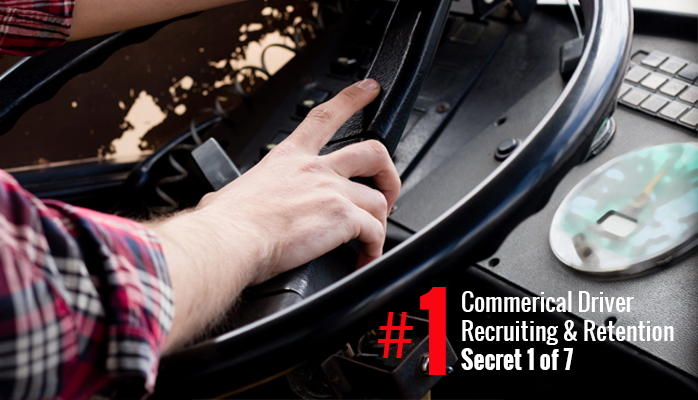 Today's Truck Drivers and the Truth about Retention and Recruiting
Keeping commercial drivers today is challenging and finding drivers is even more difficult. You need a solution now that will help your company overcome this major obstacle – but where to start? Which comes first – recruiting then retention or retention then recruiting?
In an industry that loses 9-1/2 out of every 10 people they hire, mostly within the first 3-6 months, nothing seems to be working to reverse the trend. With all the money spent on recruiting, paying sign-on bonuses, providing all sorts of real or perceived perks, benefits, brand development and on and on – drivers still leave.
Retention and recruiting of truck drivers, especially independent contractors/owner-operators is like the weather.  Everyone talks about it but few change their strategy to prepare for the dismal results.
So what is missing?  Why do only a few companies enjoy low turnover and high productivity while most don't?
The difference is simple to understand but very challenging to execute; let me explain.
Most drivers are smart – street smart – and know a poker player when they see one.
Secret #1 to avoid driver turnover prevention is to avoid broken promises, and it begins in the hiring process. You can solve this problem by training your entire company staff on message delivery, accuracy and completeness.
Follow-up with a continued focus on the driver is a must. Stay tuned in to what drivers really value in working for a company, not what you as chief executive think they want. What are their needs, what is important, what works and what doesn't work from their point of view?
The key to reversing the driver crisis starts with the company CEO and his (her) commitment to do what needs to be done internally and externally to change the culture. Core values impact customer relations, customer cooperation, employee relations with drivers and the synergy necessary to make drivers happy.
Today's trucking company is not your grandfather's or even your father's company.  Even the older, ready to retire drivers know that life is very different in trucking and blame company leadership for the sorry state that we find ourselves in with respect to turnover, driver pay and lack of new entrants.
You can change the game for you and your company. The formula is alignment with the driver, senior management and key personnel — and this alignment must be in the hearts and mind of everyone.
Here are just a few action steps you can take to begin to set the stage for 'driver friendly' and necessary policies, procedures and behavior execution.
Select top management officials to conduct one-to-one onsite chats with each driver over a period of a few weeks
Reduce the disconnect between departments – train on inter-department communication, collaboration and cooperation with drivers. Bring in an outside trainer who is an expert in these matters
Empower fleet managers/dispatchers to be advocates for drivers
Fleet managers should provide personal one-on-one contact and attention to drivers; call them by name, not their truck number…know their spouse/significant other's name.
Do retention seminars for everyone – including communication skills and sensitivity training
Begin the process of building your company brand by developing these traits that matter – 'attractor factors' – to draw and retain drivers.  This will become your competitive advantage for the best-in-class drivers.
Up Next – Secret #2: Knowledge is power. Learn what you need to know to begin to build a world class retention strategy for your company.
From The Executive's Playbook by Norris L. Beren of RRED, Inc. – Coming Summer 2015: How to Find and Keep Truck Drivers and Independent Contractors – Motor Carrier Driver Retention and Recruiting
Norris Beren, CEO of Risk Reduction Education located in Mt Prospect, Illinois, provides executive advisory services to transportation and logistics CEOs and their executive teams to 'get out of stuck' and become a top performing company again through a different lens analysis of legacy thinking.